The Fondest Wish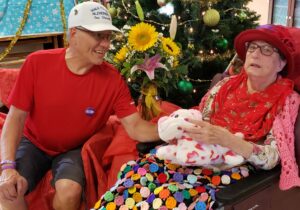 Our organization prides itself on doing the best we can for all of the residents in our nursing home. Providing a warm, loving and supportive environment for residents and their families, whether they live near or far, is a responsibility we take very seriously. Doing our best includes doing the basics well- providing excellent medical care in a safe environment, serving nutritious food, providing diverse activities (including trips outside the facility), encouraging multiple religious service opportunities, providing opportunities for interaction with the outside community, and treating every resident with the dignity and respect which is rightfully theirs. But there was more that we wanted to do, but the stumbling block was always how to fund what we now call our "Fondest Wish" program.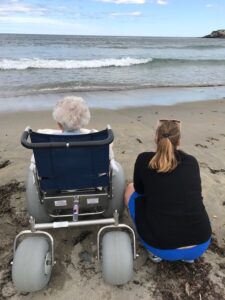 The impetus for this program grew out of a partnership with a local organization granting wishes for local seniors. In 2006 we collaborated in celebrating a resident's 100th birthday. Her wish was to ride in a side car of a Harley Davidson motorcycle. What started for a wish for one resident, ended up being a Saturday morning in July spent by 5 female residents going for a ride, courtesy of a local Harley Davidson dealership. Our centenarian was the star of the day but the group included a 94-year-old, a 93-year-old, and two youngsters in their 80's. These women all came away with fond memories of their ride and just perhaps a glimpse back to a time earlier in their lives.
That day was just the beginning of what has become one of our proudest achievements. We have raised over $157,000 in the last 15 years at our annual golf tournament. Some of the wishes granted over the years are:  Red Sox and Patriot games for a resident and their family, a dinner and limousine ride to Ogunquit for a couple to celebrate their anniversary, a trip to Disney World, Tobey Keith concert tickets, Christmas in July for a resident and her family to name a few. In addition, we grant very basic requests such as a CD players , computers or tablets and holiday gifts.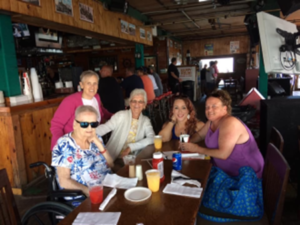 The tournament raises the majority of funds used to facilitate these wishes. We do receive monetary donations throughout the year and hold raffles annually. We depend on all money raised to continue with this program. We began with guidelines that identified those eligible for Hospice support, believing that those individuals be given a chance to engage in some meaningful activity near the end of their life. We have been fortunate to extend those parameters to include more of our population due to the generosity of support we are given.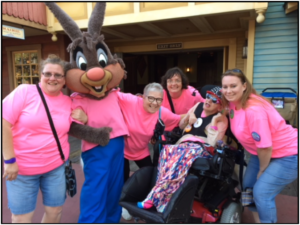 We believe that this program benefits our residents immeasurably. It allows a resident, especially if their family does not have the financial resources to assist, to participate in something above and beyond the normal activities which occur in the facility. It is about the resident thinking "what if" and now having the mechanism in place to say "why not".
Purpose:
To grant wishes to Riverside Rest Home residents for an activity or an event in which they might like to participate, but do not have the personal and family resources to do so on their own. It is intended that wishes will enhance the quality of life for the grantee and expose him/her to activities or events which do not occur at Riverside Rest Home in the normal course of the year.
Eligibility:
This program is open to all Riverside Rest Home residents. Priority for granting wishes will be given to those residents who have been admitted to Hospice care. If the resident(s) agree, family members may be included in the activity. The cost of family members participation will be decided on a case-by-case basis.
Award Amounts:
The amount of the award will be decided on a case-by-case basis.
Award Frequency:
Only one wish per resident will be granted during their stay at Riverside.
Funding Source:
It is intended that the source of funding for this program will be from the funds generated by the annual RRH golf tournament and any individual donations which may be received to benefit this program. No Strafford County tax revenues will be used for this endeavor.
Partnerships:
To the extent possible, and as long as other organizations have similar goals and objectives, the RRH Fondest Wish Committee may participate in the joint funding of some wishes so as to maximize the resources of each individual organization.

Review Committee:

The members of the Fondest Wish Committee are: The Director of Social Services, The Director of Activities and The Director of Volunteer and Public Relations. The Golf Committee may also participate as needed.
Tuesday, June 13, 2023 Cochecho Country Club, Dover, NH 03820