Pace Yourself for Riverside Rest Home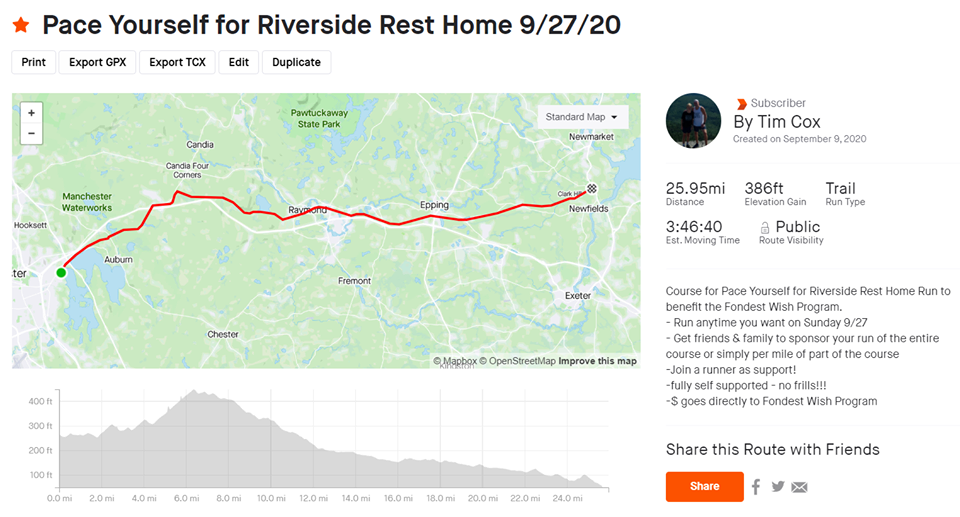 Self Supported Run from Lake Massabesic to Newfields on the Rockingham Rail Trail on Sunday September 27th. Run by obtaining sponsors or sponsor a runner with $ going directly to RRHs Fondest Wish Program. Donation link below.
The Money raised during this run will go directly Riverside Rest Home's FONDEST WISH PROGRAM. The PURPOSE of the Fondest Wish Program is to grant wishes to Riverside Rest Home residents for an activity or an event in which they might like to participate, but do not have the personal and family resources to do so on their own. The program's intent is that wishes will enhance the quality of life for the grantee and expose him/her to activities or events which do not occur at Riverside Rest Home in the normal course of the year. The Fondest Wish Program does not use Strafford County tax revenues for funding. It is our BELIEF that each one of our residents is a unique individual who should be encouraged to live an active, fulfilling life. Being a resident of a health care facility, being aged, or being disabled should not handicap a person's spirit and ability to enjoy living.
See Less